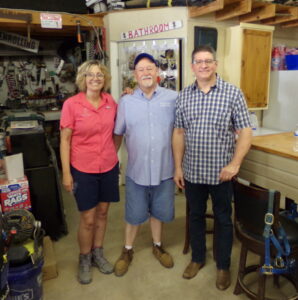 By Dan Roark  The 2nd New Hope Gala will be on October 12. The inaugural Gala was hugely successful last year in addition to being a pleasantly entertaining evening. This year's New Hope Gala promises to be just as entertaining, quite possibly more so.
The Honorary Chairs of the New Hope Gala this year are Argyle Mayor, Rick Bradford, and his wife, Susan. Following his invitation to be Honorary Chair, he was invited to New Hope on Saturday, July 1st.
Volunteers put together impromptu lessons with Ella and Margaret, who were more than happy to be the riders. The leaders and side walkers took the two riders around the arena. Everyone had enjoyment and excitement on their faces despite the heat (but not the temperatures we have now).
Mayor Bradford watched the lesson and talked to the Kershens about all the facets of New Hope. A relative of his is on the spectrum and Rick was happy to learn there were therapy centers like New Hope.
Then the riders and volunteers went on the trail for shade and games. Ella and Margaret were having a blast with all the attention. Ella was excited to ring the bell. Margaret broke water balloons on the volunteers' heads. The volunteers asked Margaret who she wanted to hit with a balloon. She pointed at me and said "him." I moved forward covering the camera when the balloon hit me on the thigh.  A little while later, Margaret was "hiding" from me.
The mayor enjoyed his time learning about New Hope and watching the simulated lessons. The riders and volunteers were more than happy to demonstrate lessons in the arena and on the trail. A quite pleasant day was had by all. Which illustrates the comradeship and sense of family in the little universe we call New Hope.
Ride on and ride for hope.